- Motorcycles -
Her First: CBR600F2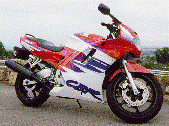 Details:
Model: CBR600F2
Year: 19??. Km: ??.000
Engine: 4 Cylinder and 600ccm and 98 Hp
Transmission: 6 speed gearbox and chain.
weight: dry ?? kg

More coming soon






Her Second: VFR800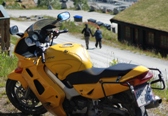 Details:
Model: VFR800 RC46 Interceptor
Year: 2001. KM: 80.000
Engine: 4 Cylinder V-motor at 800ccm and 105 Hp
Transmission: 6 speed gearbox and chain.
weight: ?? Kg

The Bike is bought at a local bike import in the North of Jylland (DK). The Bike was imported from Germany.






Her Third: BSA B31



Details:
Model: BSA B31 (model BB)
Year: 1954. Km: more and more
Engine: 1 Cylinder at 350ccm and 17 Hp
Transmission: 4 speed gearbox and chain.
weight: dry 171 kg

Bought: December 2008

The BB31 was easy to start and was driving pretty well when we bought it.
The plan was to do a bit of shinning up, and then get the bike registered and on the road.
But, there was a few small repairs to be done first, and that ended up with the engine and gearbox on the workbench.
Only the frame remained on the motorcycle lift .
Well, why not give it a proper paint job.

See how that went by clicking on the picture above...